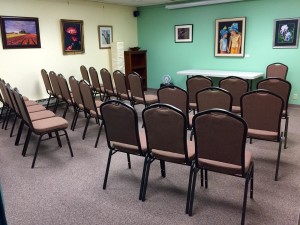 Conveniently located near the Microsoft Campus:
15446 Bel-Red Rd. Ste. B-15, Redmond, WA  98052
Download Rental Agreement/Application Form
The Ideal Place for Your Next:
Meeting
Presentation – PPT, Skype, Conference call
Movie Night
Gaming – Video games, board games, LAN parties
Small Groups – book club, bridge, poker night, tutoring, classes
Amenities:
Free WiFi
Printing, Faxing, Copying Available
Idea Paint Wall – like a white board, but better!
JVC Projector with Surround Sound and 120" Motorized Screen
Lecture Style Seating for 30 people
Conference Style Seating for 20 people
Nikken filtered water
Free parking
Additional Information
Over 300 square feet space features the work of local artists
Quiet location, close to Microsoft Main Campus, Redmond Town Center and Downtown Bellevue
Close to Qdoba, Wanta Thai, Teapot Vegetarian, Pho Hoa, Jimmy Johns, Bai Tong Thai, Office Depot, Safeway, Fred Meyer, Trader Joes
Call 425-273-0741 or email us at info@primavitamedicine.com for more details.
We look forward to hosting your next event!